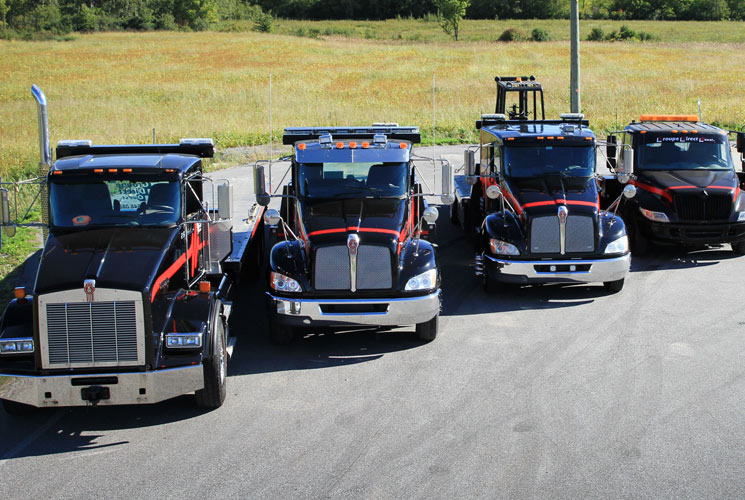 If you need to be towed, we have the equipment needed for all types of vehicles, whatever the situation. Whether for legal or mechanical reasons, Groupe Direct Ouest inc. will be happy to assist you with our towing services.
With our large fleet of trailers, always available, we're the most qualified enterprise in Vaudreuil-Soulanges and Montreal West Island. We're the only one to deliver vehicles on the First Nations reserve.
Groupe Direct Ouest inc. can offer your many different types of services. A simple call will tell you more.
Towing light vehicles
We are equipped to tow all types of vehicles. Whether the vehicle has 2, 3, 4 or 6 wheels, or even more, whether it is a road or an off-road vehicle, we have the right towing equipment. We also have trailers with flatbeds that are lower than average to tow your lower suspension vehicle without damaging it.
Towing trucks with heavy or super loads
Notwithstanding the size or weight of your vehicle, Groupe Direct Ouest inc. is up to the challenge! With our expertise and our specialized equipment, we can safely tow heavy loaded and superloaded trucks.
Towing of RV and antique vehicles
We are specialized in all kinds of motor vehicles and we take a very special care and use precision with antique vehicles.
Towing charge service
If you have problems with your parking lots, Groupe Direct Ouest inc. has the solution. The towing charge service we can provide will help you get rid of intruders.
Recovery
Groupe Direct Ouest inc. likes challenges, whether your vehicle is on solid ground, on a dirt road or even in water. Groupe Direct Ouest inc.. has a strong expertise in the recovery of all kinds of damaged vehicles. We're there to help you in the most delicate situations, by day or night. We're well aware that accidents can be the cause of much worry. By letting us help you, we'll take the load of your shoulders, in a short delay.
The Groupe Direct Ouest inc.team has been trained to retrieve the merchandise safely and without damaging it or the vehicle. Groupe Direct Ouest inc.. is also affiliated with the Groupe Hénault, environment specialists. If there is a spill of environmental contaminants, Groupe Direct Ouest inc.. can thus limit the zones of contamination.
We can also help you in case of a tragedy/accident, all through Canada and US.
Other Services
Why choose
Groupe Direct Ouest
inc. The right equipment for your specific needs. Our passion for jobs well done is the key to our long time success.

Work is done in a fast and efficient way for a guaranteed satisfaction.
Groupe Direct Ouest

inc.

is using all its assets to offer its clients an exceptional service and answer your demands in a safe and secure way.
Get a quote
Get a free quote rapidly by filling out our submission form.
Formulaire
Call us now !
We are available anytime, to help you.
514 646-0824